Finally, you can have the future you want without the worry of what tomorrow is going to hold for you financially. FIRM1040® is dedicated to helping you achieve all of your future hopes and dreams with ease and comfort. FIRM1040® LLC is an independently owned business located in Orange, NJ that offers a variety of solutions to meet the Tax and Accounting goals of individuals and small businesses. We boast a fully qualified team of financial professionals at our Orange, NJ CPA firm and offer a free initial consultation, so you can get to know us and learn about our services. We were founded in 2009, with the goal of assisting our clients in different aspects of their financial lives. We have provided the most personal and comprehensive services available, thereby, earning a reputation for excellence in our industry. For every client that we serve, we strive to build financial security and stability.
Cherie Williams, CPA
Owner and CPA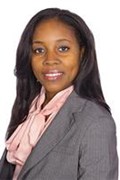 Cherie's love and passion is to work with small business owners and individuals to help them understand and better control their bottom line. What makes her stand out is her meticulous, outstanding analytics and creativity.
57 S. Center Street, Orange, NJ 07050
973-339-7773
Saturday

Sunday

12:00pm - 5:00pm

12:00pm - 5:00pm